Fighting For Your Rights Against Felony Drug Crime Charges
If you are facing an uphill legal struggle against serious drug offense charges — in Miami, Florida, nationwide, or anywhere in the world — you need a skilled criminal defense lawyer on your side. You have rights that must be protected.

The attorneys at The Law Offices of Walter A. Reynoso, P.A., know how to safeguard those interests during every phase of the criminal justice process.

Whether examining your charges in detail, guiding you through a federal investigation, moving to suppress illegally obtained evidence, negotiating with the government or advocating for you aggressively in court, our firm's formidable reputation gives your case credibility.

When you retain The Law Offices of Walter A. Reynoso, P.A., you have the advantage of 30 years of criminal law experience. We can represent you in a wide array of drug crime cases including:
Trial Experience, Personal Service, Track Record Of Success In Florida Courts
The Law Offices of Walter A. Reynoso, P.A., represents those arrested for cultivation, importation, sale or delivery of marijuana, methamphetamines, cocaine, heroin, molly, party drugs or drug paraphernalia.
To learn more about our well-known statewide, national and international drug possession defense practice, and the many ways that our Miami criminal defense attorneys can help you, contact us by phone at 305-441-8881 or by email to arrange an initial consultation. Hablamos su idioma.
Las leyes de los Estados Unidos también afectan extranjeros que viajan o hacen negocios en el país. Es importante saber que usted también tiene derechos. Mi oficina trabajará con usted y su familia en luchar por sus derechos y libertad. Vamos a mantener contacto contigo a través de las últimas tecnologías de comunicación, así como personalmente visitarte en su país, si es necesario. Por otra parte, mi oficina ofrece una perspectiva internacional, algo que muchas otras firmas de abogados talvez no te pueden ofrecer. Nuestra experiencia internacional asegura de que usted tiene un defensor que no sólo conoce todos los temas, pero es alguien con quien usted puede tener relación, y en última instancia, confianza.

2014 and 2015 Top Lawyers of South Florida

2002-2012 Martindale Hubbell Highest Peer Review Rating

2011 Newsweek Top Attorneys in the Country

2014 Top Law Firms South Florida Legal Guide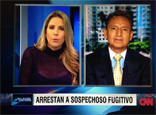 Walter has been a commentator on CNN.