Fighting For Your Rights When You Face Charges For A Crime In State Court
A criminal arrest in state court calls for skilled defense representation — the kind that aggressively protects your rights from start to finish of the legal process.
The Law Offices of Walter A. Reynoso, P.A., near Miami, provides that attentive advocacy for clients from all walks of life — and has over three decades of successful criminal defense practice.
Our law firm safeguards clients' interests in state courts after arrests for offenses such as felony battery and assault, drug trafficking, grand theft, robbery, kidnapping and homicide. We know how high the stakes are for your family, finances and future, and work hard at every juncture to put this legal crisis behind you.
Our attorneys listen attentively to your side of the story. Our in-depth conversations with clients allow us to gather facts that could support our defense. We inspect every detail of your case for any sign that law enforcement may have overreached when taking you into custody. We move to suppress illegally obtained evidence that could incriminate you and skillfully negotiate with prosecutors on your behalf.
In court, we hold the government to its burden of proof and explore all avenues toward the reduction or dismissal of charges. When your case has concluded, you can be confident that your rights were fully protected by a knowledgeable felony defense lawyer.
Sealing Or Expunging Your State Court Charge
A simple charge on your record can affect your chances of getting the home or job you want. If you weren't found guilty of your crime, why should you face these challenges? We can discuss whether you are eligible for sealing or expunging your record and, if so, help you erase your criminal charge.
Defense Attorney Walter A. Reynoso Puts 30 Years Of Trial Experience On Your Side
For well-constructed defenses against Florida state court felonies and the personal service that goes with it, contact The Law Offices of Walter A. Reynoso, P.A. Contact us via email or call us in Miami today — 305-441-8881. We reply promptly to all messages. Hablamos su idioma.

2014 and 2015 Top Lawyers of South Florida

2002-2012 Martindale Hubbell Highest Peer Review Rating

2011 Newsweek Top Attorneys in the Country

2014 Top Law Firms South Florida Legal Guide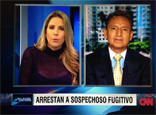 Walter has been a commentator on CNN.