Over 30 Years Of Trial Experience In Florida's Federal Courts
under criminal investigation
Many federal crime cases do not begin with an arrest. Rather, a law enforcement officer will often go to a person's place of business or home and leave a business card. Other times, law enforcement will approach you for a statement unannounced. Law enforcement will often encourage you to make a statement or reaction that could potentially incriminate you.
If you believe that you may soon be visited by law enforcement or you have already had an interaction with a law enforcement agent, it is essential that you immediately hire an experienced criminal defense attorney to ensure that your constitutional rights are protected. An experienced criminal defense attorney can efficiently advise you as charges are being contemplated. Efficient legal strategy and advice could help you avoid criminal charges during this critical time.
United States laws also affect foreigners who travel to or conduct business in the country. It is important to know that you also have rights. Our office will work with you and your family so that you can fight for your rights and liberty. We will maintain contact with you using the latest communication technologies as well as personally visit you in your country, if necessary. We have traveled abroad extensively in these circumstances.
Furthermore, our office offers a unique international perspective that many other Miami law firms may not offer. Our unique international background will ensure that you have a defender who not only understands all the issues, but also is someone whom you can trust, relate to — and ultimately rely on.


Las leyes de los Estados Unidos también afectan extranjeros que viajan o hacen negocios en el país. Es importante saber que usted también tiene derechos. Mi oficina trabajará con usted y su familia en luchar por sus derechos y libertad. Vamos a mantener contacto contigo a través de las últimas tecnologías de comunicación, así como personalmente visitarte en su país, si es necesario.
Por otra parte, mi oficina ofrece una perspectiva internacional, algo que muchas otras firmas de abogados talvez no te pueden ofrecer. Nuestra experiencia internacional asegura de que usted tiene un defensor que no sólo conoce todos los temas, pero es alguien con quien usted puede tener relación, y en última instancia, confianza.
Grand Jury Subpoenas
Sometimes, you will receive a grand jury subpoena, either as a potential witness, subject or a target of a federal grand jury. It is imperative that you immediately contact an attorney who can thoroughly advise you how to respond with the goal of protecting your constitutional rights. An experienced lawyer will help you gather all necessary information, will maintain a dialogue with the designated prosecutor, will prepare expert witnesses if necessary, and will guide you throughout this complicated process.
Get Legal Protection On Your Case From The Beginning
The investigation stage is a very critical stage in the criminal justice process. Effective representation during the investigation could be the difference between formal charges and avoiding charges. Contact our Coral Gables, Florida, office online or call 305-441-8881 to have an experienced trial attorney intervene at the earliest stage possible.

2014 and 2015 Top Lawyers of South Florida

2002-2012 Martindale Hubbell Highest Peer Review Rating

2011 Newsweek Top Attorneys in the Country

2014 Top Law Firms South Florida Legal Guide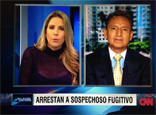 Walter has been a commentator on CNN.