Providing Experienced Florida Misdemeanor Defense
In greater Miami, Broward and Palm Beach counties — and throughout the State of Florida — The Law Offices of Walter A. Reynoso, P.A., strongly advocates for you when your legal rights are at risk in administrative hearings and in court.
During his 30-year criminal defense practice, attorney Walter A. Reynoso has successfully defended clients against state charges such as DUI, disorderly conduct, obstructing justice and trespassing, as well as types of domestic violence such as stalking.
The attorneys at our firm take careful note of what happened before and during your arrest for a misdemeanor. Their thorough fact-finding leads to persuasive negotiations with prosecutors and effective arguments in the courtroom. The firm's commitment to attentive personal service ensures that all questions are promptly, honestly answered, and that you are always aware of the status of your case.
Helping To Seal Or Expunge Your Record Without The Stress
A criminal charge from long ago may prevent you from acquiring gainful employment and dignified housing. Our efficient sealing and expungement legal services can help you delete an ugly criminal charge (if eligible) without the stress of navigating the process. We diligently work to erase your prior conviction and improve your standing in the eyes of employers and landlords. Call now to learn if you are eligible and enquire about our services.
Your initial consultation with our skilled state court lawyers can be arranged right now at 305-441-8881 or by email message. Hablamos español.

2014 and 2015 Top Lawyers of South Florida

2002-2012 Martindale Hubbell Highest Peer Review Rating

2011 Newsweek Top Attorneys in the Country

2014 Top Law Firms South Florida Legal Guide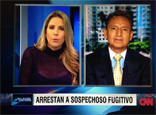 Walter has been a commentator on CNN.