Fighting For Your Rights In Serious Federal Fraud Cases
If your business and family's future hinge on the outcome of a criminal trial or investigation, you must act now to ensure that your interests are safeguarded, and your liberties and livelihood are preserved.
The Law Offices of Walter A. Reynoso, P.A., offers zealous and aggressive advocacy for all financial crimes, bank and wire fraud, money laundering, embezzlement, extortion and alleged Ponzi scheme accusations. The law firm excels at investigating charges presented, exploring all legal challenges, negotiating with prosecutors toward reduction or dismissal of charges and presenting the facts of your case with persuasive arguments before a judge and a jury.
Over 30 Years Of Trial Experience In State And Federal Courts
Our criminal law firm has represented defendants from all walks of life, including an exclusive professional clientele: A roster of high-profile clients such as professional athletes, doctors, lawyers, bankers, executives and government officials. Our recognized track record of success shows that The Law Offices of Walter A. Reynoso, P.A., can help you, too.
During this often complex, stressful process, you gain confidence from our focus on attentive personal service. You receive prompt answers to your questions, responsiveness to your ideas and frequent updates on the status of your case, from start to finish.
To speak with a skilled South Florida defense lawyer, call 305-441-8881 right now or send an email message. Hablamos su idioma.
Las leyes de los Estados Unidos también afectan extranjeros que viajan o hacen negocios en el país. Es importante saber que usted también tiene derechos. Mi oficina trabajará con usted y su familia en luchar por sus derechos y libertad. Vamos a mantener contacto contigo a través de las últimas tecnologías de comunicación, así como personalmente visitarte en su país, si es necesario.

Por otra parte, mi oficina ofrece una perspectiva internacional, algo que muchas otras firmas de abogados talvez no te pueden ofrecer. Nuestra experiencia internacional asegura de que usted tiene un defensor que no sólo conoce todos los temas, pero es alguien con quien usted puede tener relación, y en última instancia, confianza.

2014 and 2015 Top Lawyers of South Florida

2002-2012 Martindale Hubbell Highest Peer Review Rating

2011 Newsweek Top Attorneys in the Country

2014 Top Law Firms South Florida Legal Guide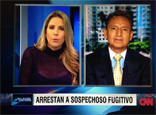 Walter has been a commentator on CNN.