Seal And Expunge Your Florida Criminal Record
When employers, apartment managers, law enforcement and many others can see that you have been charged with a crime — even if you were found not guilty — you face a debilitating stigma. That stigma can prevent you from finding a decent apartment, getting a job and even qualifying for a loan.

At The Law Office of Walter A. Reynoso, P.A., we have more than 30 years of criminal law experience, including extensive experience fighting for the constitutional rights of people in the Miami area and across Florida. We know that a simple charge on your record can make life difficult, and we want to help. Call 305-441-8881 for an initial consultation.
Can You Expunge Your Criminal Record?
If your case was dropped or dismissed, you may be able to expunge your record. Through expungement, you can remove your criminal record entirely from the Florida Department of Law Enforcement's records and other databases. With limited exceptions, you can then legally say that you were never charged with a crime.
If you do not qualify to expunge your record, you may be able to seal it. Sealing a criminal record makes it confidential, preventing many of the issues you face today.
Florida has strict laws regarding expunging and sealing criminal records. For example:
There can be no conviction whatsoever with the underlying charge. In other words: If the judge or jury found you guilty, you cannot expunge your record.
You can only seal or expunge a Florida criminal record once in your lifetime (unless you have had a juvenile expungement).
A number of crimes are prohibited from expungement such as sex crimes, robbery and homicide.
It is important to speak with an experienced attorney about your case — an attorney who understands Florida's expungement laws and can help you take action to protect your future.
Improve Your Chances Of Getting A Good Job Or Dignified Housing
We are a well-respected Miami law firm that is focused on protecting people from the damaging effects of criminal charges. To learn whether you qualify to seal or expunge your record, please contact us by email or by phone at 305-441-8881 to arrange an initial consultation. Hablamos su idioma.

2014 and 2015 Top Lawyers of South Florida

2002-2012 Martindale Hubbell Highest Peer Review Rating

2011 Newsweek Top Attorneys in the Country

2014 Top Law Firms South Florida Legal Guide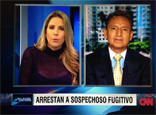 Walter has been a commentator on CNN.