Fighting For Your Rights After A Serious DUI Arrest
An arrest for drunk driving, or involvement in an alcohol-related traffic accident causing serious injuries, is detrimental for a motorist's rights, driving privileges and personal reputation — to say nothing of the ability to drive to a job and provide for a family.
The skilled assistance of an experienced DUI defense attorney can be the difference between success and failure, acquittal and conviction, freedom and incarceration. We can assist you in entering a pretrial diversion program where your successful completion could potentially result in your criminal DUI charges being dropped.
At The Law Offices of Walter A. Reynoso, P.A., 30 years' worth of Miami-Dade, Broward, and Palm Beach County clients can vouch for our firm's tenacity, talents and commitment to protecting your rights after a state court misdemeanor arrest.
Our lawyers are well-aware of the many factors that can go wrong in the course of a traffic stop on suspicion of drunk driving. Sometimes, police will mistake erratic driving — in inclement weather, on dangerous roads — for drunk driving. Your motor vehicle's malfunction could impact your driving and cause police to take notice, and misuse their "probable cause" to pull you over, question you and test your breath for blood alcohol content. A repeat DUI arrest could potentially become a felony charge.
A Breathalyzer machine's defect could result in a distorted "BAC." An injury or illness may prevent you from performing strenuous field sobriety exercises. Our law firm strategically utilizes these flaws in the case against you so that charges against you could potentially be reduced or dismissed outright.
South Florida DUI Defense Attorneys At The Law Offices Of Walter A. Reynoso, P.A., Work Hard To Put You Back On The Road
To learn more about our effective drunk driving defense practice, and to schedule an initial consultation, call us today at 305-441-8881 or send an email message. Hablamos su idioma.

2014 and 2015 Top Lawyers of South Florida

2002-2012 Martindale Hubbell Highest Peer Review Rating

2011 Newsweek Top Attorneys in the Country

2014 Top Law Firms South Florida Legal Guide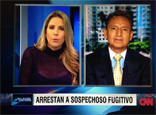 Walter has been a commentator on CNN.