Client-Focused Defense, Protecting Your Rights In Miami Cybercrime Cases
A cybercrime can be committed by manipulating dollar amounts in a company's computer — constituting a financial crime such as embezzlement — and by using a computer to possess and distribute sexually explicit images or videos.
If one of these serious criminal charges has interrupted your life, you can ensure that your rights and reputation are protected by contacting The Law Offices of Walter A. Reynoso, P.A., in Miami.
In 2015, the Florida legislature passed a bill making "revenge porn" a 1st degree misdemeanor offense. Our zealous advocacy will show the judge or jury that you had no intent to harass the persons depicted in the images.
For 30 years, attorney Walter A. Reynoso has stood up for the rights of people — people with jobs, families and personal goals. He advocates for your freedoms and reputation through forceful litigation against government claims in and out of court.
Fighting For You In Federal Court
The Law Offices of Walter A. Reynoso, P.A., represents those targeted by an investigation of personal or commercial use of a computer as well as those arrested for any other kind of white collar offense. We are prepared to defend you against charges with discretion and professionalism.
To speak in confidence with a Florida Internet crime and cybercrime defense lawyer who truly cares about you, contact The Law Offices of Walter A. Reynoso, P.A., today for an initial consultation. You may speak to us in Spanish if it's the language you are most comfortable with. Hablamos su idioma. Call 305-441-8881 or email our Miami law office here.

2014 and 2015 Top Lawyers of South Florida

2002-2012 Martindale Hubbell Highest Peer Review Rating

2011 Newsweek Top Attorneys in the Country

2014 Top Law Firms South Florida Legal Guide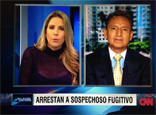 Walter has been a commentator on CNN.