Experienced Defense Of Doctors And Health Care Providers Accused Of Health Care Fraud
The Law Offices of Walter A. Reynoso, P.A., represents South Florida physicians and health care providers who have been investigated for, or arrested on serious charges of, overbilling of Medicare or a false diagnosis of a patient — otherwise known as health care fraud. Hospitals, doctors, home healthcare providers, billing companies, clinics and Durable Medical Equipment companies (DMEs) are often targets or subjects of healthcare fraud prosecutors' criminal investigations.
Our law firm has provided over 30 years of successful practice in Greater Miami by providing aggressive and experienced criminal defense and health care fraud defense representation.
Our attorneys listen carefully to your side of the story. After a thorough investigation of your legal problem and visiting the scene of the incident, we work hard to negotiate with prosecutors with the goal of putting this crisis behind you. If your case must go to trial in federal court, you can expect a persuasive presentation of evidence in front of a judge and a jury.
Dedicated Defense Lawyers Who Fight For Your Rights
A criminal arrest for a serious white collar crime can put your freedoms, finances, family's future and your reputation as a licensed professional at risk. Whether you are a doctor investigated for Medicare fraud, a mortgage broker or real estate agent accused of mortgage fraud, or an established businessperson about to stand trial on money laundering or credit card fraud charges — The Law Offices of Walter A. Reynoso, P.A., fights hard to preserve your liberties and livelihood.
To speak with an attorney in a confidential initial consultation, call 305-441-8881 or reach us by email. Hablamos su idioma.

2014 and 2015 Top Lawyers of South Florida

2002-2012 Martindale Hubbell Highest Peer Review Rating

2011 Newsweek Top Attorneys in the Country

2014 Top Law Firms South Florida Legal Guide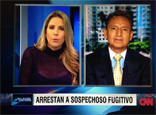 Walter has been a commentator on CNN.