Reputation For Results In Mortgage Fraud Cases
The Law Offices of Walter A. Reynoso, P.A., has the skilled criminal defense representation you need if you have been accused, investigated, or arrested on charges of mortgage fraud in Miami, South Florida, or nationally.
Types of mortgage fraud include irregularities when qualifying for a home loan; appraisals for higher amounts than a home is worth; inspections that cut corners; the false listing of features such as swimming pools to artificially inflate a residence's value; a false or forged W2 form, or false statements (misrepresentation) to the FDIC.
Walter A. Reynoso uses his 30 years of trial experience to safeguard his client's interests. He works hard to represent you effectively — in and out of court — during negotiations with federal prosecutors as well as before a judge and a jury.
The Law Offices Of Walter A. Reynoso, P.A., Fights For Your Rights In Florida's Federal Court
Our law firm takes charge of your case immediately, looks carefully into why you were arrested for mortgage fraud — or any kind of fraud or serious white collar crime — and aggressively advocates on your behalf throughout the process. You also receive the benefits of our commitment to one-on-one personal service: prompt answers to your questions, responsiveness to your concerns and regular updates on your case's status.
It is important to have an experienced criminal defense attorney on your side who knows the justice system inside and out, is largely respected by the legal community and has a proven track record in defending high-profile cases. Most importantly, you need an attorney who truly cares about you. The attorneys at The Law Offices of Walter A. Reynoso, P.A., are exactly those kind of client-focused defense lawyers.
Contact our law office today to schedule an initial consultation and learn more about our mortgage fraud defense practice. Call 305-441-8881 or send an email message. Hablamos su idioma.

2014 and 2015 Top Lawyers of South Florida

2002-2012 Martindale Hubbell Highest Peer Review Rating

2011 Newsweek Top Attorneys in the Country

2014 Top Law Firms South Florida Legal Guide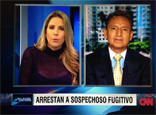 Walter has been a commentator on CNN.